Grappling
2019-2021

Clay and fibre rope samplers
Six Ply
2019
Earthenware clay
Z/S twist chimes
2021
Earthenware clay with cotton fiber rope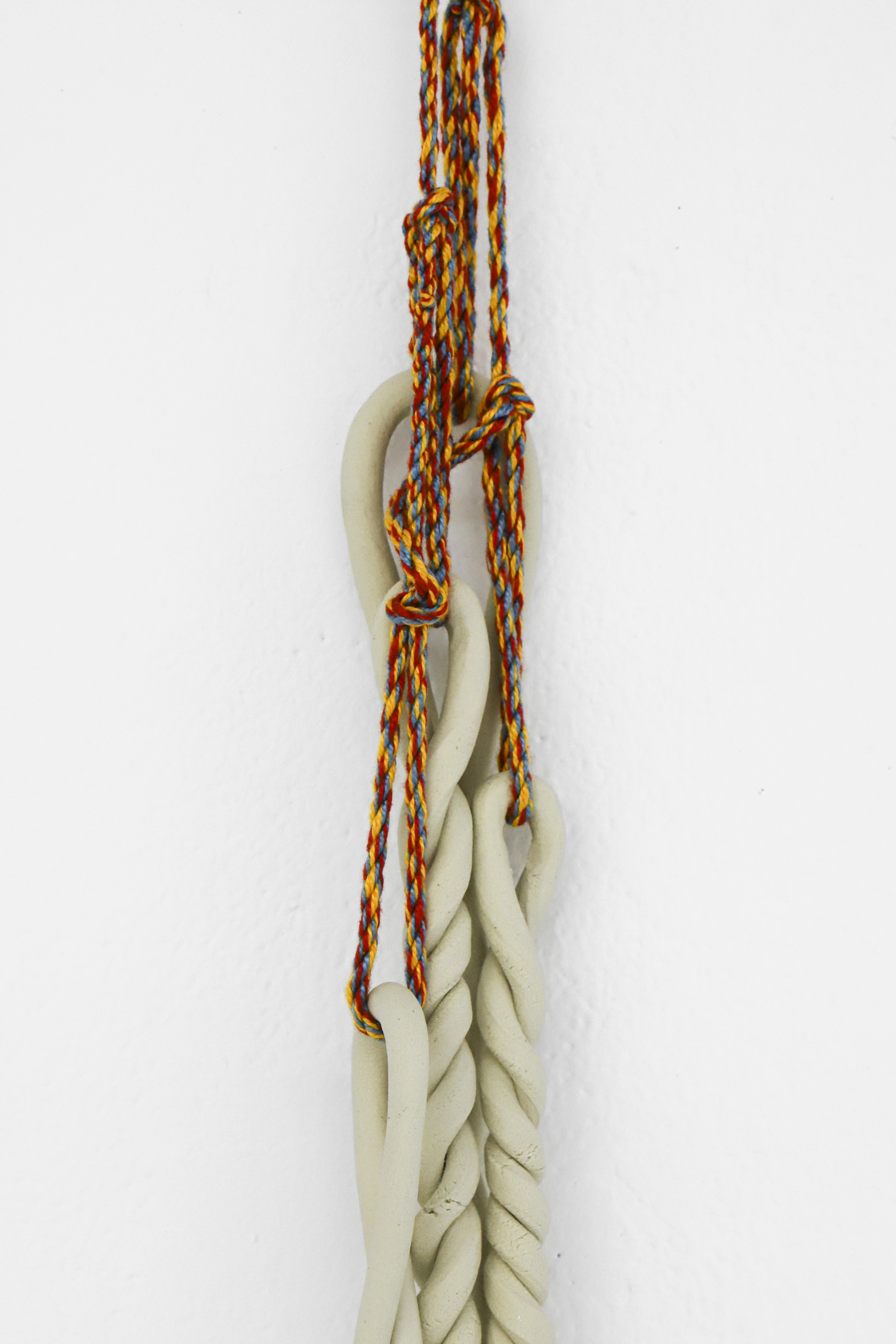 Terra
2021
Earthenware, ball clay, fireclay, minspar, silica, and Alberta slip with cotton fiber rope

Altogether
2021

Earthenware, stoneware, fireclay, ball clay, porcelain, Alberta slip, minspar, silica, grog (fine and coarse), baking soda, sand, soda ash, quinoa, rice, zinc, bone ash, wood ash, perlite, vermiculite, talc, ilmenite with cotton fiber rope




Where are we going?
2020

Earthenware and stoneware with cottolin rope





These works are pathways. Relations. Hard and soft, pliable and fixed; soft and fixed, hard and pliable. Mergings. Translations. Resonances. Questions. What does the clay do? What does the fiber do? What can they do? What do they do together? Support, hold, hang, stretch, twist, break, unravel, dangle, count, wrap, twine, crack.


In clay, gestures typically used to create strong, pliable, functional materials, become frozen fragile forms. The resulting ropes are playful experiments and communicative gestural bodies, vulnerable to breakage and failure but often taking on unanticipated properties and shapes as the coiled and twisted clay dries and shrinks. My work in these materials grapples with their relationship to use as a way to explore what more they might offer when form is translated between media and their expected performance undermined. The ceramic rope takes a pliable fiber structure and fixes it in clay. Translated into a new material, the function of the form is eliminated: they are the wrong tools for the job. The ceramic thread cannot tie, stitch, or twine. This translation and inversion of the expected use of these materials expands our understanding of them and creates a space of revelation and possibility.

Tethers, chimes. Ropes to grasp onto, to climb. Are we going up or down or … ?

Where are we going?